Based on the Japanese mobile game of the same name, Princess Connect! Re: Dive is the most cheerful anime this season. While it has that and a few other things going for it, it still comes off as a bit dull in other aspects.
The Synopsis
Princess Connect! Re:Dive is the story of Yuuki, an amnesiac Hero sent to a fantasy world by a goddess. And alongside him she sends a guide to assist him on his travels named kokkoro; a timid but devoted young girl who only seeks to serve her master.
Though their journey starts off a bit rocky, which includes some wolves, they quickly build a strong bond and even meet some others along the way. The first being Pecorine; a girl who's both lovably dumb and always hungry yet surprisingly very strong.
They also meet Karyl; a catgirl whose sole purpose of being in the group is to take out Pecorine as she's been tasked to do so for an unknown reason. Yet Pecorine and the other members in the group fail to realize this. Regardless of this, after a bunch of zany misadventures and events, by the third episode, they decide to form a gourmet guild and set their goals on seeking out the best food they can find.
The main cast of characters are certainly interesting. They're both cheerful and bring a lot of charm to the series. The main character for one seems to be more of a supporting character than a protagonist. So far even his powers seem more like an outlet to help out the girls on his team rather than making him an overpowered chick magnet. Couple that with the fact that he has very little personality due to his amnesia, and you have a very flawed protagonist.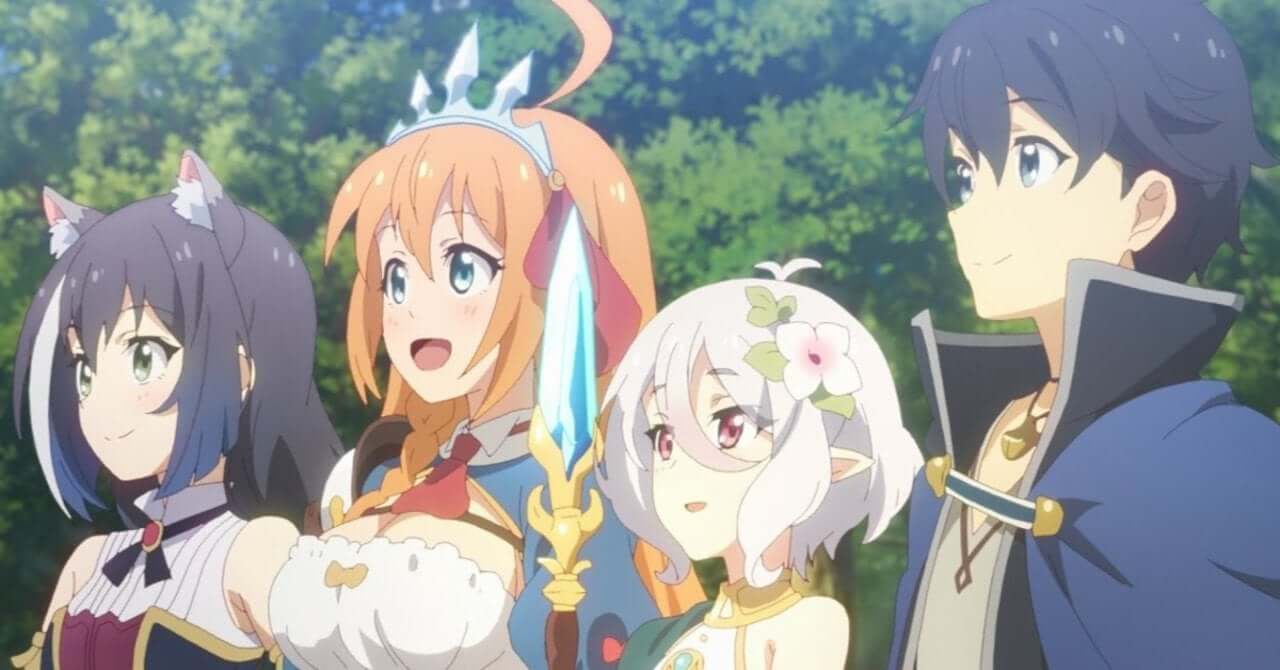 A Lack of Depth
The characters lacking any depth supports the lack of story progression or explanation for their motives. So far anyway. We know the main character is called Yuuki, he was summoned to a different world, and he lost his memories, but that's about it.
It feels like he isn't even the main character and is forced into the background. He barely talks and when he does he seems like a child. Him losing his memories doesn't explain him lacking any character whatsoever.
And with that being the case, the anime seems to put Pecorine more into the limelight. Sure she's a bit dumb and fails to see a lot of things clearly, but she's a character who's pretty strong, and capable as well as very lovable. All characteristics you'll see in a regular anime protagonist.
Another Isekai But Different
The anime is cheerful and endearing and even happens to be funny when it isn't trying too much. The characters though fun, all happen to be fit a certain character trope. For example, we have the main character who's only there to be the main character, then the kuudere who'll most likely fall in love with the protagonist, then the typical tsundere and dandere.
Aside from your usual cookie-cutter characters, it's a beautiful anime. The visuals support its cheerful vibe and the music also supports its isekai setting. But that doesn't take away from the real focus on the show so far.  Which is It's beautiful and delicious-looking food.
The food seems to be a central point for the anime, and the creators succeed in making it look quite appetizing. Which surprised me as coming into this anime, I wasn't expecting to see food near the same levels of food wars.
Another thing that surprised me about this plot point is that the anime introduces a dynamic fantasy isekai setting. One that's visually appealing at that, but instead of focusing on your usual demon lord defeating route its plays on a much smaller scale which I found rather refreshing.
Final Thoughts
So far, I'm quite divided on Princess Connect. But what the anime lacks in character depth, it makes up for it with sheer wholesome comedy which I'm sure is enough for a lot of people. The third episode even manages to introduce some mysterious new characters into the mix. Since this is just the 3rd episode, I'm sure a lot will change. I just hope it's for the better.
You can stream Princess Connect! Re:Dive on Crunchyroll right now.
What do you think of Princess Connect! Re:Dive? Are you a fan? Let us know your thoughts in the comments section below.